Alright! It's Wednesday. We are back on track with the blog schedule after yesterday's anomaly, so that means that today is Wednesday Review day! Here we go.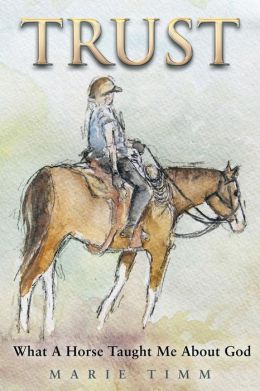 Disclaimer:
I was a little reluctant to read this book. It was given to me by my mom, who is a friend of the author's, and I was a bit worried: What if I didn't like it? Thankfully, that was not the case. In fact, I was so impressed, I decided to review it here on my blog.
Introduction:
This book is creative non-fiction. It explores the relationship between the author and God through the parallel relationship between the author and her horse. Because both relationships develop in concert over time, it also tells a coherent story. Written in the form of narration about the situation with the horse mixed with letters representing conversations between the author and God, the chapters are organized both chronologically and thematically, as both relationships go through various stages.
So what happens? The author, who has finally realized her life-long dream of owning land to house her own horses, has just purchased a new horse (her previous mount no longer being in any condition to ride). She thought she had done everything right. She'd been in communication with the sellers for some time, and as far as she could tell, they were a reputable business. Finally she gets the horse delivered, and he seems fine. It's only after the delivery trainer has left (and the drugs he gave the horse wear off) that the truth comes out: this horse is completely out of control. What follows is a long, long process of working to train this horse and deciding whether or not to keep him, but it's not just the horse who has lessons to learn - his rider does, too.
My Review:
So, I'm not a big reader of non-fiction. Not that I don't like it or anything, I just don't tend to seek those books out - I'm plenty busy reading children's books, classics, poetry, plays, etc. When I do read non-fiction, though, it's usually biographies or autobiographies.
Trust
is basically an autobiography of a very specific item in the author's life (the saga with this horse, Mr. Paladin). Since I like horses, this story works for me, but even if you don't, this is an excellent book about the relationship between us humans and God.
Now, I usually hate letters in books. I mean, really.
Anne of Windy Poplars
? Barely got through that thing. The letters in
Trust
, however, don't have that correspondence feel to them. They read like a conversation instead. They're also not long-winded. If you don't like the idea of 'letters from God' 'written by' a person, just remember that they're representational of what the author was 'hearing' from God. It's actually a very effective device that should get you thinking about how communication in this relationship actually happens.
There is a bit of repetition in the book, as the author struggles to learn certain lessons, but there are always slight differences to what's going on - skipping over a section because it looks like something you've already read at first glance would be a mistake. Besides, aren't there things in all of our lives that we struggle with, time and time again? Marie Timm is no different.

The characters and their relationships in this book are dynamic, and there's a definite story arc with the opposing themes of fear and trust. The story Marie Timm tells about her relationship with God should resonate with any Christian, and that's really the main thrust of the book - the story of the horse is what gives it tangible context. If you read this book with an open heart, you will learn something about yourself and God.

All in all, it's very readable. More importantly, it's worth reading.


Statistics:
Copyright: 2014
Publisher: WestBow Press
Length: 116 pages
Genre: Creative Non-Fiction

My rating: 5 stars out of 5. --Highly recommended!